To provide a legacy in education which promotes qualities of open-mindedness, tolerance and respect for others, which will provide a best practice model for the future of students from all nations in Gabon.
We have a better understanding of our students and so we give them the necessary tools to change mindsets.
Being able to communicate in one or several languages is a powerful skill because it allows us to embrace a different culture, to discover our neighbour.
We aim to produce a more sensitive generation that is aware of people.
At ERV, each child is offered the opportunity to develop and learn in a unique environment.
To become Africa's most enterprising school, focusing on sustainability and innovation to play a significant role in Gabon's and in Africa's education.
E

xcellence

We strive for excellence in every aspect of life: in human relations, in one's abilities and expectations.
R

espect

We respect ourselves, our environment, and each other.
V

irtue

We value truth and honesty, tolerance, integrity and responsibility.
EVENT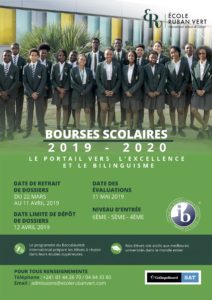 "ERV is a pioneer school where every child is dedicated to become an independent and knowledgeable person eager to discover around him."
Karine Perkins | Director of Children's House
"Working in ERV is a rewarding and enriching experience. It is a bit like being at home. I am very proud to be here. "
Félicia | ERV Support Staff