Education is a natural process carried out by the child and is not acquired by listening to words but by experiences in the environment.
Maria Montessori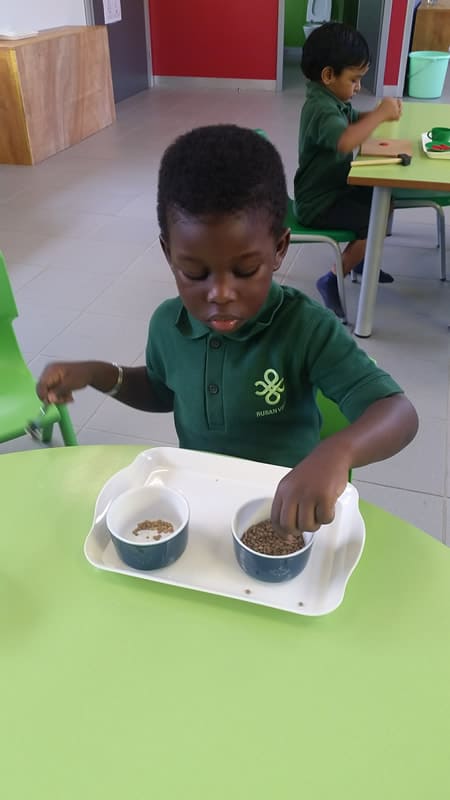 Ecole Ruban Vert welcomes children aged from 3 to 18 years old from Gabon and other countries. We offer a curriculum centred around the International Baccalaureate with a wide range of extra curricular activities to empower our students to develop their skills and prepare them to the upcoming challenges.
Montessori education
The Montessori method of education was developed by Dr. Maria Montessori (1870-1952) who opened her first classroom in 1907 in Italy. She was the first woman in Italy to graduate from medical school and pursued her career as a physician and anthropologist dedicated to understanding children's social, intellectual, physical, and spiritual development. Through meticulous observation on how children develop, she discovered universal patterns in all human beings regardless of their social or cultural background.
This method is based on self-directed, hands-on activities and cooperative play. Children can develop through their own experience and their pace of learning is respected throughout the day. They can respond at any moment to the natural curiosities within themselves, and build a solid foundation for lifelong learning.
Montessori is growing worldwide and has proven itself to be extremely popular throughout Europe, the United States and Asia. Famous Montessorians include: from the British Royal family, Prince William, Prince Harry and now Prince George; founders of Google, Larry Page and Sergey Brin; founder of Wikipedia, Jimmy Wales and founder of Amazon, Jeff Bezos.
Enrolment is now open, and the staff of the Montessori section of Ecole Ruban Vert are very much looking forward to welcoming your children to their new class. For more information, you can follow us on Tumblr at https://montessorigabon.tumblr.com/
Our classroom will offer a bilingual environment with English and French immersion. Children acquire a new language with ease while learning new academic skills to improve in their mother tongue.
Why choose a Montessori School?
Montessori moves from concrete to abstract: the child is able to interact with concepts and ideas through the use of didactic materials rather than by simply memorizing facts. Montessori facilitates a natural love for learning: The Montessori materials and the lay out of the classroom, naturally brings about the inquisitive nature of the child and allows them to find out different ways of doing things. They open up the child to learn for themselves.
Montessori seeks to educate the whole child: it equips the child for everyday life, giving them practical skills which gives them purpose and enables them to be a contributing member of their family, classroom, and community. Montessori nurture an instrinsic love of learning: no reward for learning other than the intrinsic joy the child receives when they discover something new or realize they have acquired a new skill.
Montessori focuses on the individual child and their potential: in a Montessori environment, both students can meet their full potential and work at their own pace. The scope and sequence of each subject area (maths, language, practical life, sensorial, culture/geography, botany, zoology ect.) is the same for each student. The materials are already prepared and present on the shelf. All the teacher has to di is to be aware of where the student is and be ready to give the next lesson in the sequence.
« Children are human beings to whom respect is due, superior to us by reason of their innocence and of the greater possibilities of their future. »
Maria Montessori