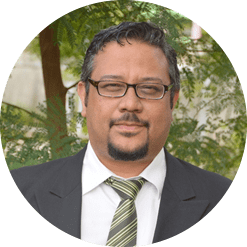 Vincent Thierry ADAM
Head of School
Welcome to

École Ruban Vert
– where every day is an adventure!
The Educational response to the 21st century is probably the biggest challenge that education has ever had to face, and it is a challenge that we at ERV are willing to take on. Education has often been criticised as not having evolved enough but it has. More precisely, it has had to, both in form and content. In such a complex digitally connected global village, our children need to navigate through a cascade of information, big data, and post-truth and as a result, we need to inculcate information literacy. The debate about climate change is unfortunately still ongoing and it is upon us to create focused, determined and ethical members of society, those who will show discernment. We are having to take a hard look at how much we have polluted our oceans and reconsider our relationship with plastic. This sort of mind-shift cannot wait and does not naturally happen. Through service learning, we promote social change. More than simply differentiated, instruction must be interdisciplinary and understanding conceptual. We have students who will graduate from our school in fifteen years and not even our imagination can tell us what artificial intelligence will look like then. We need to encourage fresh, unorthodox, and creative thinking.

We at ERV will provide the standards and structure for our students to flourish given the above context. Students learn academic and behavioural expectations from the onset. Social cohesion is favoured over social control. They also learn to take pride in their achievements and to be accountable for what they do, as well as to meet the high expectations we have of them. staff is always there to provide the learning support and encouragement they may need. Students are aware of the academic honesty expected and of the rigorous and necessary assessment protocols.

Finally, we build relationships. Relationships between students, parents and teaching staff are the partnership for success needed in education. Relationships allow for education to change and adapt to factors such as age and other circumstances that occur during the life of an individual learner. Indeed, in our pursuit of excellence we aim for success, but what we also want to achieve is significance. This is our mission, my team and I. Welcome to ERV.
Dear Parents, As is always the case at ERV, we have had a busy, buzzing, month of May. Starting with the performance of our Early Years students, a most successful event that saw all teachers and teaching assistants working together to make it a reality. The students...
read more