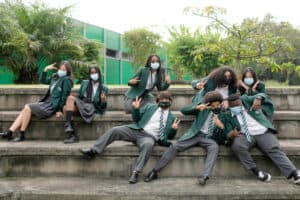 ERV is celebrating the success of our students taking the IGCSE (International General Certificate of Secondary Education exams). These international, external qualifications are taken before entry to the IB Diploma programme. Exams are graded from 1 (lowest) to 9 (highest), with a 4 being a pass.
For the fourth successive year ERV students are to be congratulated on their remarkable achievements, with this year's results being the best ever!
100% pass rate achieved by all students in all subjects.
30% of all grades the highest grade 9.
62% of all grades were high grades, 7, 8 & 9.
Students in Year 10 who took a subject one year early all achieved the highest grade 9.
All grades for French were the highest grade 9, for the third year running.
All students have been promoted to the International Baccalaureate Diploma Programme.